There are two versions of repeating Jobs in vWork. This version does not use Assets. If you use Repeating jobs with Assets please go to the article How do I set up Repeating Jobs v2 - with Assets.


Enable Repeating Jobs
Enable Repeating Jobs in your vWork settings. To do this:
Go to the settings page then scroll to the Repeating Jobs section.
Check the checkbox next to Enabled? This will allow you to set up and create repeating jobs in your account.

Set up your Repeating Jobs
Once you have enabled repeating jobs in your account you need to set up the jobs you want to repeat. This is done in the Jobs tab using an option called Repeating Jobs.
On the Repeating Jobs page, click Add Repeating Job and choose which template you want to use for the job.

Next, you are asked to give the repeating job a name (so that you can find it again if you ever need to edit or delete it). In this example, we have called it "John Smith Service".
Please Note: When a job that repeats is created it is based on a job template but it is not hard-linked to the template.
If someone updates or changes a template it would instantly break all of the repeating jobs if they were hard-linked. (For example, if someone deleted a field where it has a value in a repeating job).
The next step is to confirm when you want the jobs to be created and how often. You have a lot of flexibility here, including:
every day
every Tuesday
every Monday, Wednesday and Friday
every 3 days
every other week on a Thursday
every month on the 1st
and combinations of the above…
For this example, I need the job to be done every Tuesday and Thursday. I also want the job to only be created two days before it is required so that it doesn't clog up the worker's schedule.
Please Note: If you set the job to be created 0 days before, it will appear at 12.00 am on the day of the job if it has no start time.
If the job has a start time and is to be created 0 days before we will create the job at the start-time on the day. This is so we create the job at the latest possible point when 0 day is set.

From here on in it's just like creating a regular job; you can choose the customer, choose the worker, choose the tart time, and enter details in any required steps or custom field information.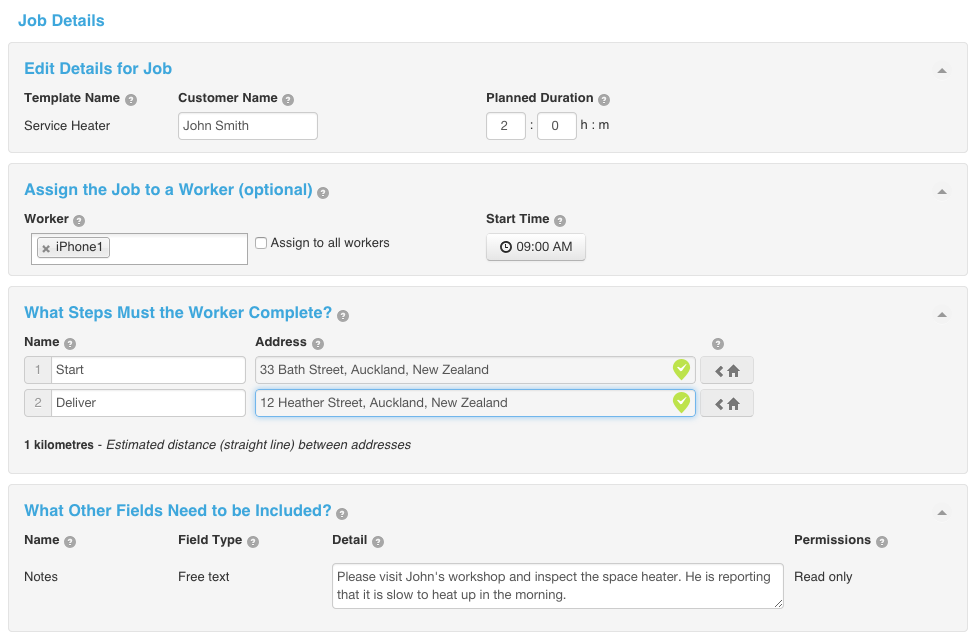 Once you're done, click the Save Repeating Job button. When you do your repeating job will appear on the index page showing you when the next job is scheduled for.