It is easy to create one or more duplicate copies of a job that will include all the same job information- same customer, steps, step addresses, custom field information, and invoice information. This is really helpful if you have many jobs that are exactly the same but maybe have a different start time and/or assigned worker; eg., when you want to do a bulk delivery of ten loads of gravel to the same site or pick up eight tanks of grape juice from the same supplier. You can easily create a copy of the job at the time that you create it, and you can also duplicate existing unassigned jobs from the Jobs list.

Notes:
When creating multiple jobs the job must not have an assigned worker.
If you add a scheduled start time all jobs are created with the same start time.
In this article
This article explains how to create duplicate jobs.
Topics include:
Click a link from the topic list above to go to that topic. You can return to this topic list by clicking this icon:

Create multiple jobs at the time you create a new job
To create multiple identical jobs when you create a new job:
Create a new job.


In the Job Information tab go to Jobs.




Enter the number of jobs you want to create.


Complete all other details for the job.
Ensure the worker field is Unassigned.




Click to save the duplicated jobs.

Create duplicate jobs from an existing job
To create duplicate jobs from an existing job:
Go to the Jobs tab.


Find the job you want to duplicate from the Jobs list and click next to the job ID to duplicate the job. This opens a new identical job in the job editor.


At this point you can choose to make a single copy or several identical duplicates. To make more than one copy, click Jobs and enter the number of jobs you require.


Click to save the newly duplicated job(s).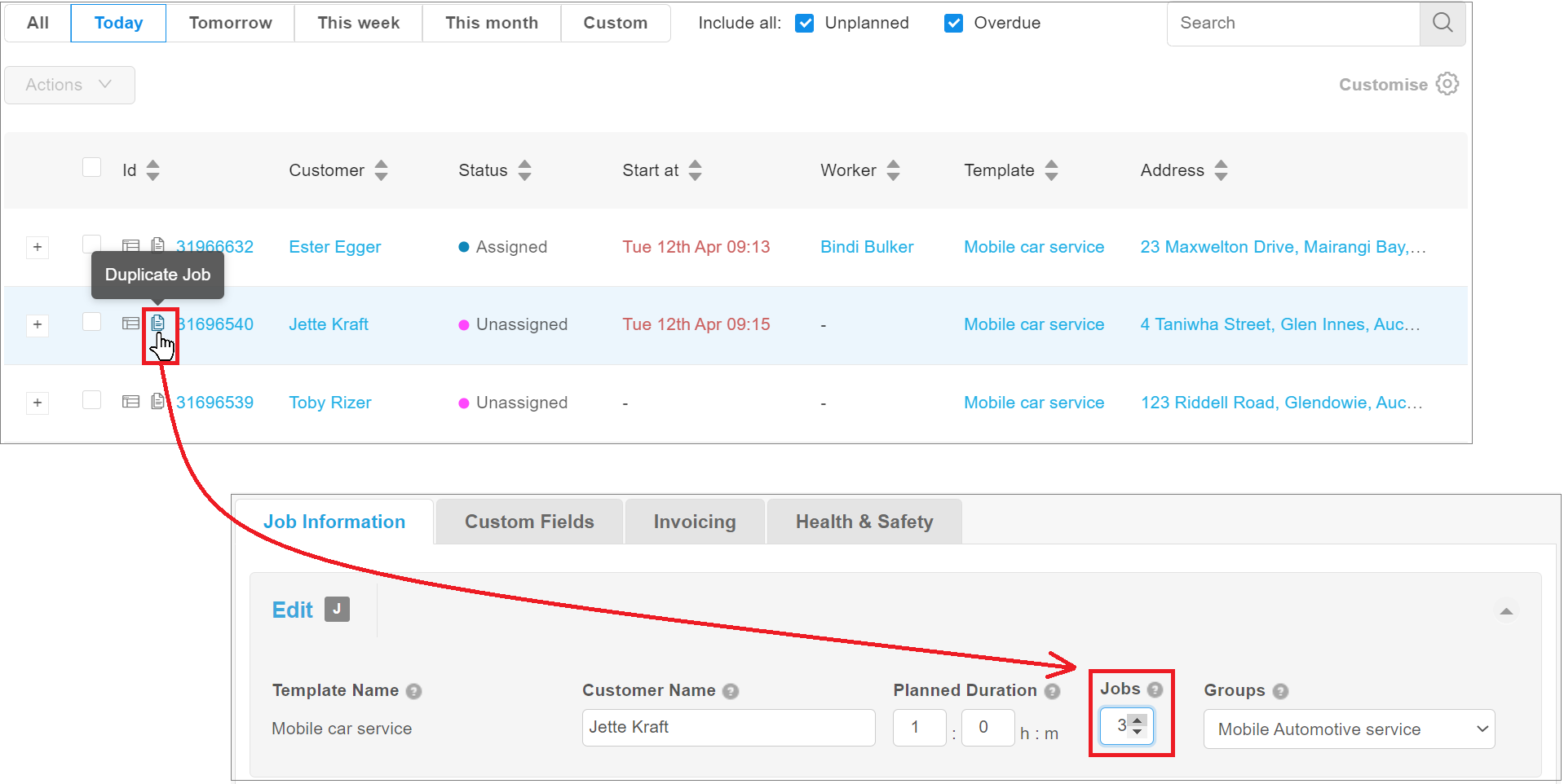 This is an example of the Jobs list after you have created duplicate jobs. It may take a few minutes to generate the jobs if you have duplicated a large number.