vWork Messaging is a standard feature in vWork that enables dispatchers and mobile workers to send instant messages to each other directly in the vWork app.
In this article
This article provides an introduction to instant messaging using vWork. For information explaining how to set up and use the vWork instant messaging feature please see these articles:
Topics in this article include:
To go to a specific topic, click a link from the list above. You can return to the topic list by clicking this icon. You'll find it at the end of each topic.

What is Messaging?
Messaging is ideal for teams that want to easily stay in touch. You can send one-to-one or one-to-all messages quickly and easily using the Messages tab. Mobile workers see messages in the vWork app and can easily reply. You can also enable messaging between individual mobile workers.
Messaging enables you to keep all of your job-related communications conveniently located in one central place and reduce costs by minimizing your use of SMS and phone calls.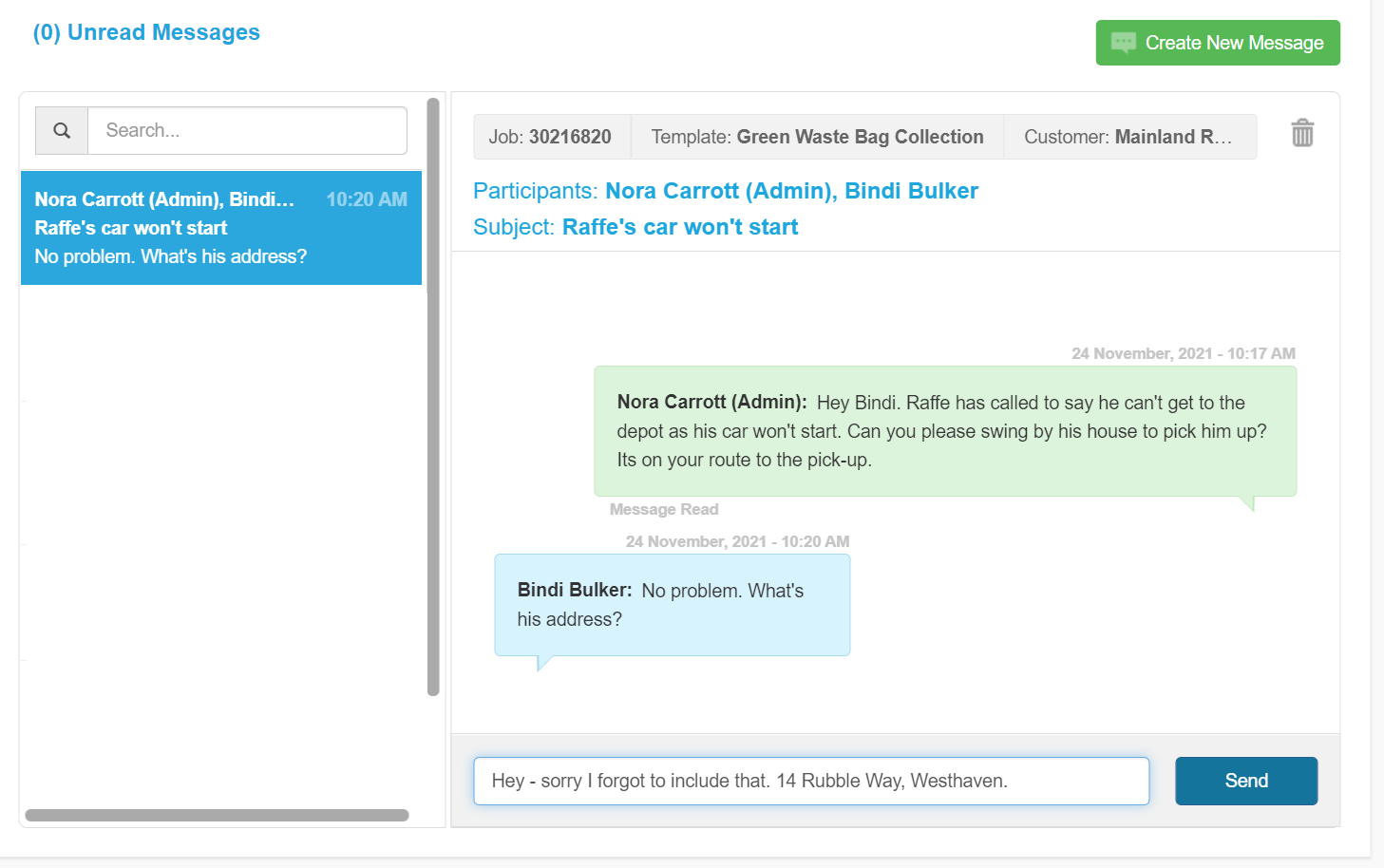 vWork also has an enhancement to standard messaging called Three-way Messaging. This enables dispatchers, mobile workers, and customers to participate in a three-way message thread. The customer sends and receives SMS messages, and the mobile worker and dispatcher send and receive messages in vWork. If you want to learn more about this enhancement, please see the article: What is Three-way messaging?

Messaging permissions
Dispatchers need the Chat permission enabled to instant message the workers that they schedule and dispatch jobs for.
Dispatchers who do not have the Chat permission can't use in-app messaging.
Mobile workers have the messaging feature by default - they don't need the Chat permission to instant message with their dispatcher, but this is disabled for them until the Chat permission is enabled for the dispatchers that schedule their work.
Mobile workers can only instant message other users who have the Chat permission enabled - this includes other mobile workers.
For more information about messaging permissions please see the article: Enable instant Messaging in vWork.

How do I message mobile workers?
Once you have enabled the dispatcher Chat permission your dispatchers will see a new tab in the top menu bar called Messages. This is where they exchange instant messages with workers.



To find out more about how to exchange instant messages with workers from the Messages tab please see the article: How do I message mobile workers in vWork?