What is a Pick List ?
Pick Lists are a type of custom field. They can be added to Jobs. They allow you to define a selection of fields or status's that your workers can choose from when working on a job.
Create your Pick Lists on the Settings > Pick Lists page and then add them to your templates as you need to.
We have already created some samples for you to use, but you can create your own as well.
Why use a Pick List ?
Adding a pick list to a job gives your mobile worker quick access to add a set status to a job, like 'passed' or 'delivered' without having to type up notes.
This saves time and ensures all jobs have the right information.
How do I set up a Pick list ?
Just go to the Cog icon > Settings > Pick lists. in the vWork website
Then select Add Pick List 
Give your list a name and add the values your worker will choose from.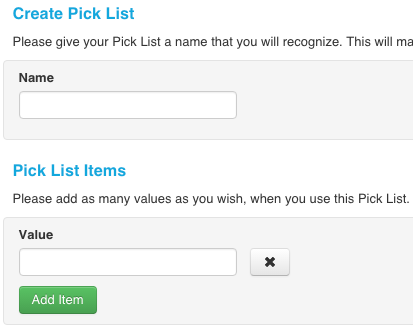 Add The Pick List to a Template
Once the Pick List has been created, you need to choose which templates to add the Pick List to. You can do this from the Templates admin page.