In this article
In vWork you can Cancel or Delete a single job or many jobs. Cancel and Delete do different things in vWork. This article explains the difference between canceling and deleting jobs and also how to cancel and delete.
Topics in this article include:
Cancel a job
What is a canceled job?

When you cancel a job it still exists in vWork and can be reinstated if required. It will remain on the jobs list in the Jobs tab with a status of Canceled.



Note: You cannot cancel completed jobs or jobs that have a project dependency set against them.


What can I do with a canceled job?
Reinstate canceled jobs
You can reinstate canceled jobs so they can be completed. Jobs can be reinstated from:
the job editor for a job.




Or the Jobs tab using the Actions menu. This can be used to reinstate single jobs or many jobs at once.


Report on canceled jobs
You can also report on canceled jobs. Select the Canceled job status when preparing your report in the Reports tab.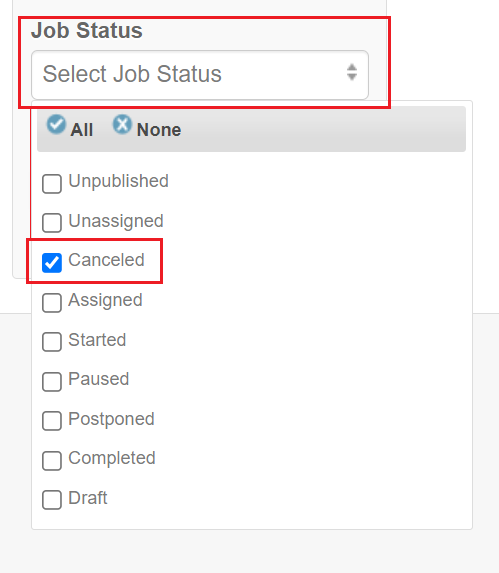 Note: When you report on canceled jobs all canceled jobs included in the Jobs tab are included in the report regardless of the date and time range you select. vWork jobs that do not have start times are always pulled through into reports. Canceled jobs do not have start times as all scheduled and actual start times are removed from a job at the time it is canceled.


Delete a job

When you delete a job in vWork the job is removed from vWork completely and cannot be retrieved or reinstated. You cannot report on deleted jobs.

Note: You can limit the ability to delete jobs to vWork Administrators. This prevents dispatchers from permanently deleting jobs. This is enabled in Settings> General.



How to cancel or delete jobs
Cancel or delete jobs one at a time
You can cancel or delete jobs one at a time from within the job editor for the job.
Click the or button.


Cancel or delete one or many jobs from the Jobs tab
You can also cancel or delete jobs in bulk from within the Jobs tab.
Select the jobs you want to delete or cancel by adding a checkmark next to them in the Jobs list.


Click the Actions button to show the Action menu.


Select Cancel or Delete from the Actions menu.


Note: The Delete option will only display for dispatchers if the ability to delete has not been restricted. See Delete a job above for more information.


A warning will show asking you to confirm that you want to cancel or delete the jobs. If you are canceling jobs you'll also be asked to select a reason for cancelation. If you want to proceed with the cancelation or deletion click OK to confirm.