What are the best phone permissions to set for my vWork app on my android phone?
When using an android phone there are a few app permissions that you need to allow (turn on) in your android phone settings after you have installed the app. These are:
Location: turn this on so that your Dispatcher can see where you are on the Map and also to enable location-based Alerts, such as the ETA Alert, to work. It is also helpful for Dispatchers as it makes it easy for them to assign jobs to you that are near your location.
Camera: turn this on so that you can take photos when these are required to complete jobs.
Storage / Files and Media: turn this on so you can select photos from your photo library to complete jobs.


Depending on your phone model and the version of Android that it runs you may find that the Location permissions have some additional options instead if just Allow and Deny:
Always track my location - this enables dispatchers to see where you are. You will not be tracked outside working hours. You can set your working (Operating) hours in the vWork app.
Note: Always track my location is only available as an option on older phones.
Only track my location when the app is open or Allow only while using the app - both of these options mean that your location will only be visible to a vWork Dispatcher when the vWork app is open on your phone. If you close the app or switch to another application you will not be tracked.


Where can I find the vWork app permissions in my phone settings?
In an Android phone you can find the vWork app permissions by going to:
Phone settings

> Apps > vWork > Permissions


Tap each of the permissions to allow or deny them. By default, they are denied when you first download the vWork app.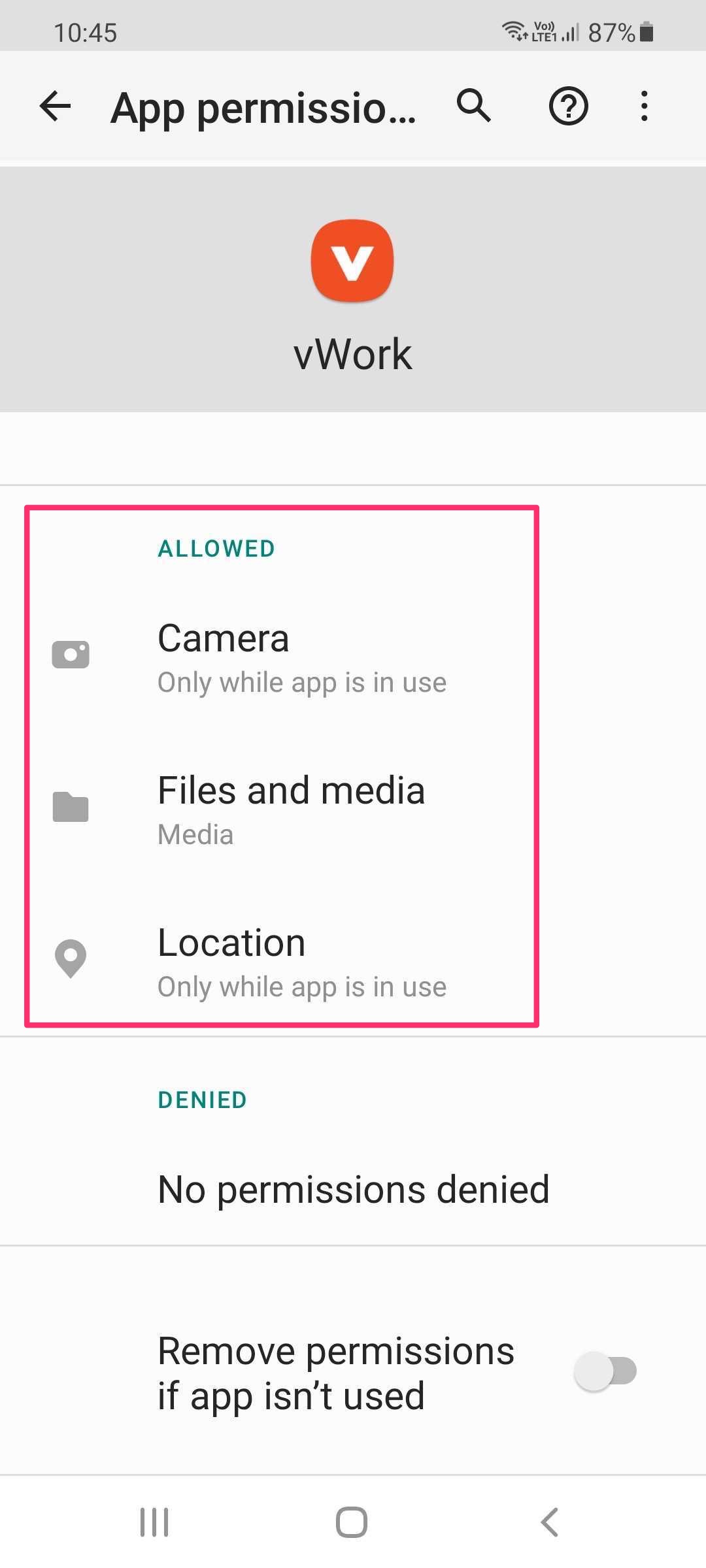 How do I set my Operating hours?
vWork does not track your location outside of your Operating (working) hours. It's easy to set your working days and hours in the vWork app.
To do this:
Open the vWork app
Tap to open the Menu
Tap Settings
Tap Location Tracking to open the Location Tracking Menu
Ensure that the checkbox next to Location Tracking has a checkmark in it.

Tap Operating hours
Enter your normal operating hours and the days of the week that you work to enable tracking during these times.