.
Mobile reminders are notifications that pop up in the vWork mobile app to remind workers to complete a step on a job. This feature is particularly useful when it is important to ensure the status of a job is up-to-date and reflects what is happening in real-time; for example:

Steps must be completed to trigger alerts and reports for customers.

A job is invoiced based on the time your worker spends doing the job and this is calculated by the time difference between two steps for a job.

A job is invoiced based on the distance traveled by your worker between two geolocated steps.

To ensure your dispatchers are kept fully up-to-date on the progress of your jobs.

To ensure the latest information is provided to other systems that you may have integrated with vWork.
Types of mobile reminders
There are three types of mobile reminders that can be turned on in the settings in your vWork mobile app. They are:
Schedule reminders


Arrival reminders

Departure reminders
This shows the reminders in the iOS vWork App settings.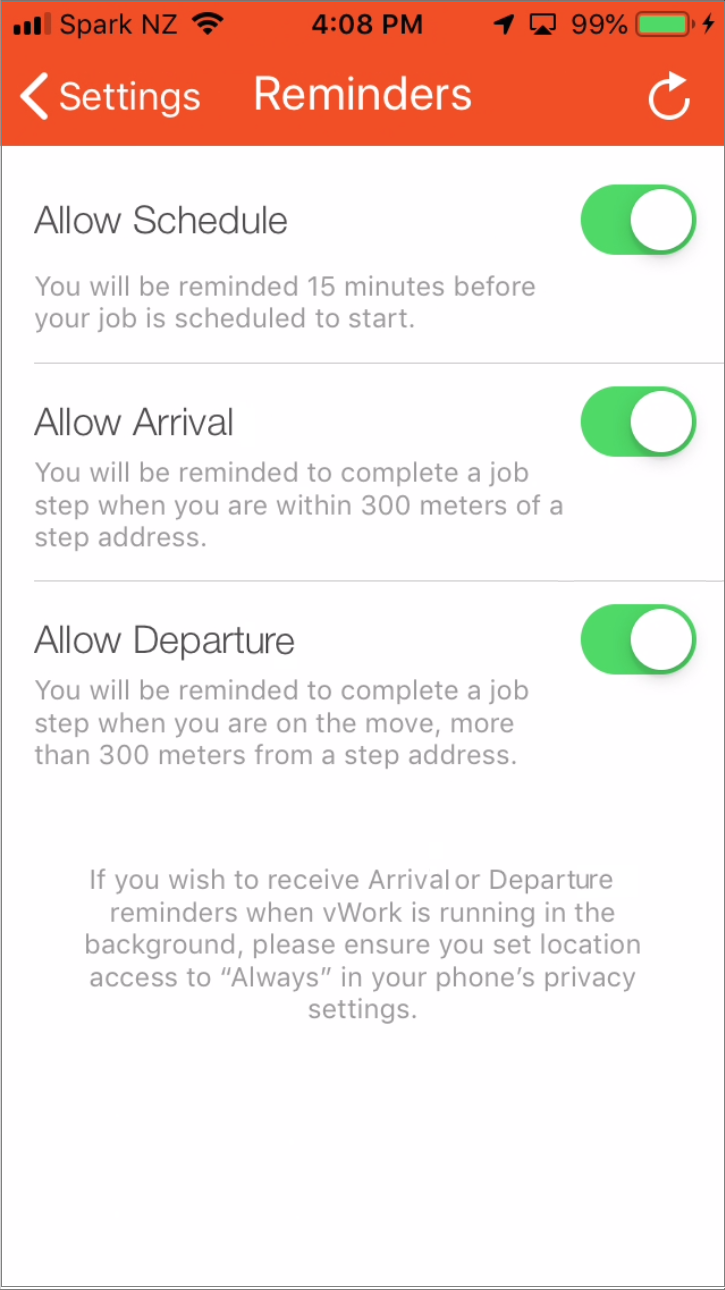 Schedule reminders prompt your mobile app users to complete the first job step when the job is scheduled to start within the next 15 minutes and no other job is in progress.
Arrival reminders prompt your mobile app users to complete a geocoded job step when their mobile device is within 300 meters of a geolocated step address. The mobile device must be stationary for this alert to activate; ie., if t is in a vehicle the vehicle should be stopped or moving very slowly.
Departure reminders prompt your mobile users to complete a geocoded job step when they have left the location of the step and are 300 meters to 750 meters away from its geocoded location.
Note: Mobile users will get Arrival and Departure reminders for jobs that have already started or when no jobs are started, jobs that are accepted (automatically, or by the worker) and are the next job scheduled to start today. We will not trigger alerts for Pending jobs; if Accept and Decline is enabled in the General settings in your account, the job must be accepted on the mobile app for a reminder to be triggered.
Related topics