Affiliate Accounts is an optional feature in vWork that creates relationships between two unrelated vWork accounts to pass jobs between them. One vWork account is the source account for the job, and the other subcontracts to complete the job.
The Affiliates Account feature is useful for any business that subcontracts out work; for example, freight companies use this feature to subcontract freight jobs to other operators when they don't have the capacity to complete their scheduled jobs using their own trucks and drivers.
When you use Affiliate Accounts you can be certain that a job created and scheduled in vWork has all its job information kept in vWork when it is subcontracted out. This reduces mistakes, simplifies the process and administration involved in subcontracting work, and ensures that all Affiliate Account holders engaged with completing a job have an auditable record of the job.
Note: Affiliate Account jobs can't be used with vWork's optional Health & Safety feature. Hazards created in a source job won't transfer to a subcontractor's Affiliate Account when they receive the job. Affiliate Accounts also require worker hours and distance traveled invoice line items to be added manually - these aren't automatically generated.
In this article
This article explains the workflow of jobs when using Affiliate Accounts and what to set up so you can start using this feature.
The topics covered include:
Click a topic link above to go directly to the topic. You can return to this topic list by clicking this icon.

The Affiliate Accounts workflow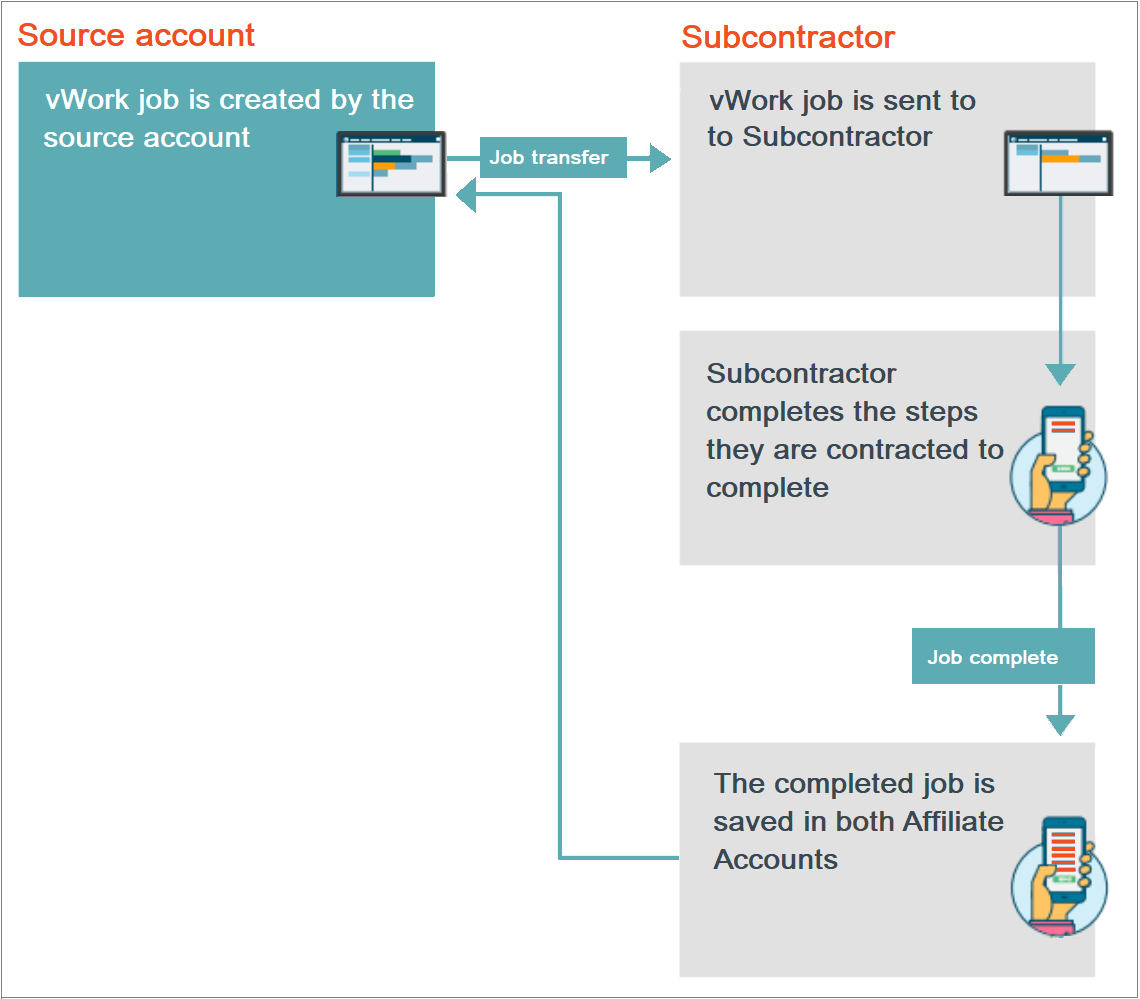 When you create and subcontract out a job using Affiliate Accounts:

A job is created in the source account and passed to a subcontractor's vWork account from within vWork.
Note

: The source account sets the user permissions that determine what parts of the job subcontractors can see and interact with.





The steps are completed in vWork by the subcontractor.





As the subcontractor completes the job steps and custom fields, the job information is updated in the source account. All vWork accounts engaged in completing the job have a record of the job saved in their vWork account.
The following articles explain how to manage an Affiliate Account job as the source account and as the subcontractor.
Before you can use the Affiliate Account feature
To get the Affiliate Account feature up and running for you and your Affiliate Account partners there are some tasks you and they need to do.

Add the Affiliates Account feature to your account. Email

support@vworkapp.com

to arrange this.





Make sure the other vWork account holders that you want to work with, as Affiliates, also add the Affiliate Accounts feature to their accounts.





Set up your Affiliate Account relationships in your vWork account. This will involve sending or accepting an invitation to become an Affiliate of another vWork account holder.





Have an understanding of how Affiliate Account relationships work and what roles each Affiliate Account takes to manage and complete a job in vWork.



The article, Set up an Affiliate Account relationship in your vWork account, explains how to connect your vWork account with other vWork Affiliate Accounts.