What is Messaging?
The vWork "Messaging" feature enables both individual and group messaging and is provided as a tool to enhance communication among staff.
Why should I use vWork Messaging versus other messaging tools?
vWork's messaging feature is ideal for teams that want to stay in touch easily. You can do one to one or one to all messaging quickly and easily in messages tab.
Keep all of your job related communications conveniently located in one central place and reduce costs by reducing SMS and phone calls.
Messaging Permission
Dispatchers need to have this feature enabled in order to use it.
By default, all mobile workers have the messaging feature, but this will be disabled until you enable the permission for at least one dispatcher.
Mobile workers are only able to message those who have the messaging permission enabled.
In the example below, Jeff and Sarah are both mobile only users and can message either dispatcher Roger or Simon who have messaging permitted. (Jeff and Sarah can't message each other as they don't have messaging permitted.)

Ensure Messaging is Enabled for Your Dispatchers
As per above, you will need to enable messaging for Dispatchers on the user admin page.
Once this is done, you will see a new tab in the top menu bar, "Messages".
Now, You Can Create a New Message
To create a new chat message, simply go to the messages tab and click the green button, "Create New Message". You can then begin entering the message information.
Select Your Message Recipients
The first thing you need to do is select the recipients of the message. There are a number of ways of doing this:
You can simply start typing a worker's name and select it from the list. (You can add more than one if you wish.)
You can start entering information in the job box (customer name, template name, job no, street address, etc..) vWork will suggest jobs based on what you type, simply select the job you want and we will automatically send the message to the correct worker.
Finally, you can tick the checkbox for "Message All Workers", this will send the same message to every mobile worker in your account. This can be useful for messages about traffic conditions, weather or other group announcements.
Define Message Subject
Once you have entered your worker information, you can enter a subject.
This should be quite simple, just enough to get your workers attention if they are looking at a large number of messages in a list.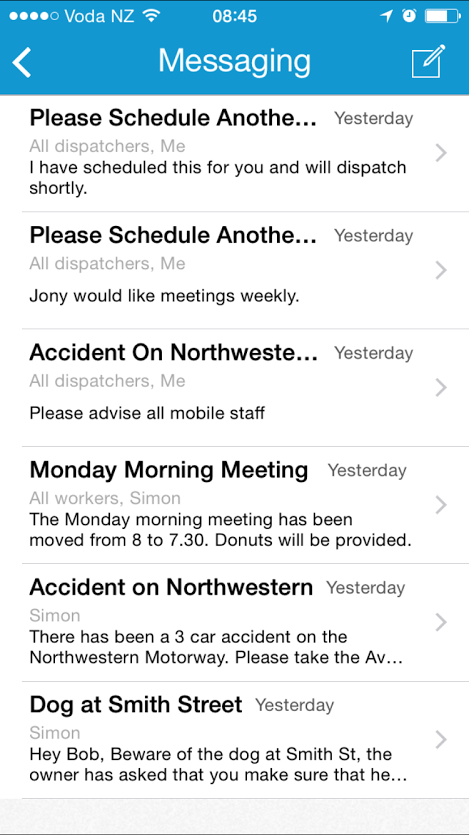 Define the Message
Finally, you can enter your message. Messages can be quite large and can include links to other web pages if needed.
Incoming Message Notification
Mobile workers can then either reply or create new messages to your dispatchers. These will only be seen by dispatchers who are logged in to vWork. Look for new messages in the top menu bar under messages.