vWork Messaging is a standard feature in vWork that enables dispatchers and mobile workers to send instant messages to each other directly in the vWork app. Messaging is ideal for teams that want to easily stay in touch. You can send one-to-one or one-to-all messages quickly and easily using the Messages tab. Mobile workers see messages in the vWork app and can easily reply. You can also enable messaging between individual mobile workers.
In this article
This article explains how to send and receive messages from within the Messages tab.
In this article:
To go to a specific topic, click a link from the list above. You can return to the topic list by clicking this icon. You'll find it at the end of each topic.

Create and send a new message
You can send messages to individual mobile workers and to many workers from the Messages tab.
🔔Notes:
Only dispatchers with the Chat web app permission enabled in their User Permissions can send and receive messages using the Messaging feature.
If you have Groups enabled you can only send messages to mobile workers in the current Group.
To create a new message:
Go to the Messages tab. (This is enabled once a dispatcher is given Chat permissions.)


Click Create New Message.


Select who you want to message.
There are several ways for you to select the worker or workers you want to send the message to. You can:

type a worker's name in the Workers field and select them from the list.
(You can add more than one person if you wish.)
type job information in the Relates to Job field
(eg, customer name, template name, job number, street address, etc..).
vWork will suggest jobs based on what you type. Select the job you want and we will automatically assign the message to the worker assigned to the job.
add a checkmark to the checkbox for Message All Workers.
This sends the same message to every mobile worker that you schedule and dispatch jobs for.
This is useful for messages about traffic conditions, weather, or other group announcements.



Enter a title for the message in the Subject field. Keep it short and to the point. This is what the mobile worker will see when they are notified of the message.


Type a message in the Message Content. This can also include links to other web pages if needed.


When you have completed your message, click Send.
This is what the message looks like in the messages tab before you send the message.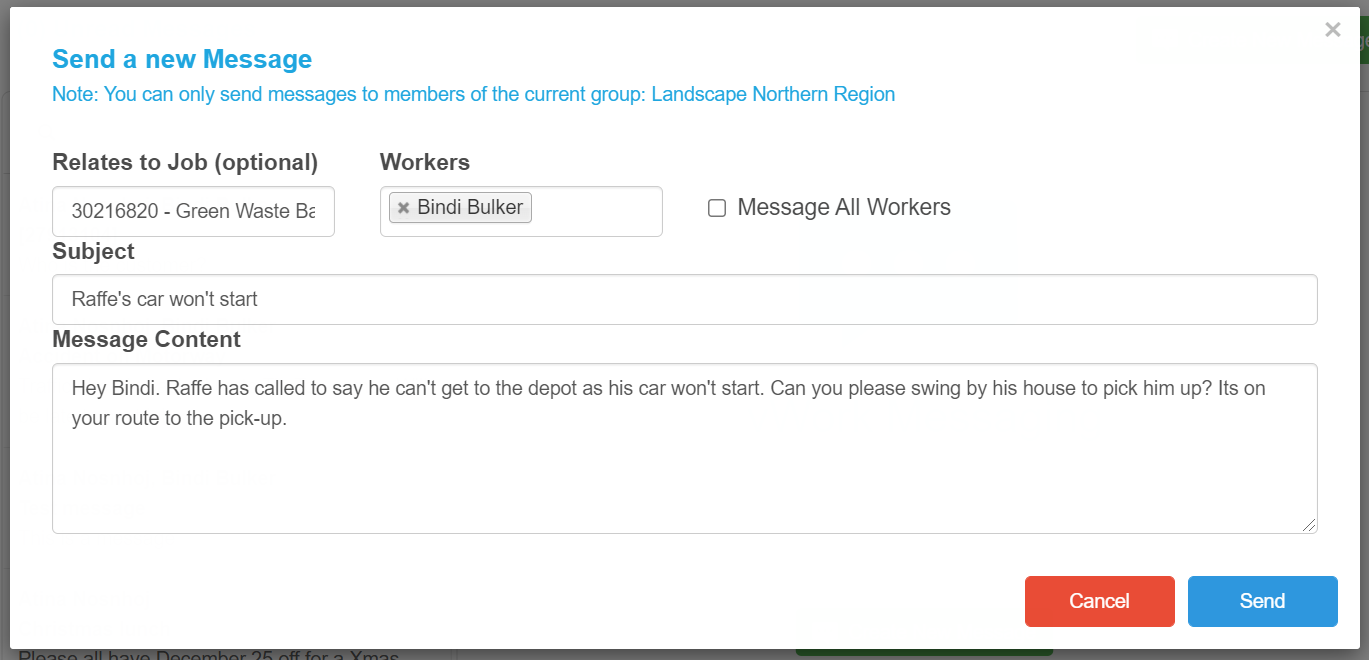 ...and here is what you will see once the message is sent. Notice that the Message is listed in the column on the left. If you need to add to this message thread later you can select it from this column.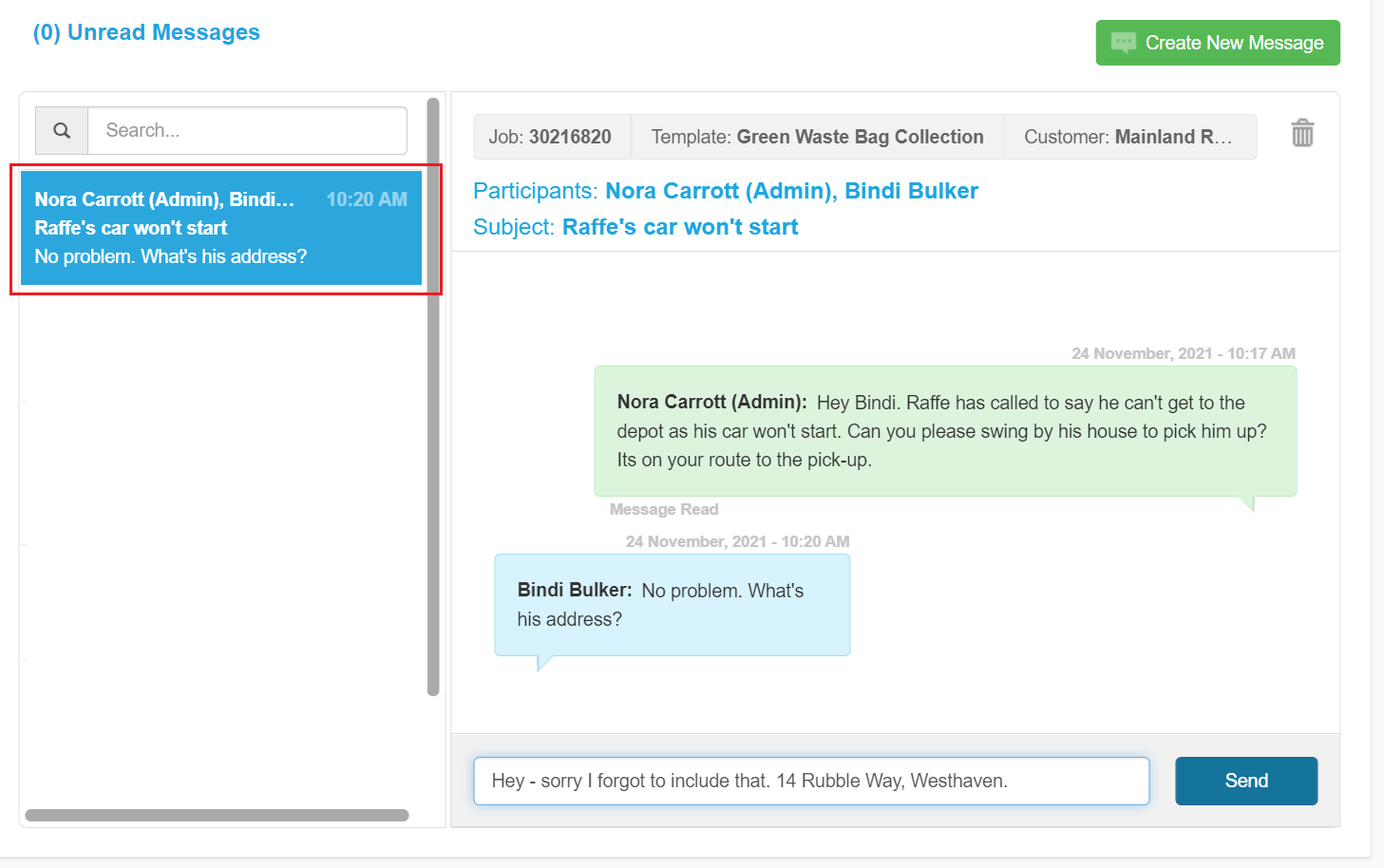 Send a message to a single worker when the thread includes many workers
When you send a message to many workers you may have a single worker reply. No other workers will see their message. However, if you reply directly in the thread to that worker all other workers will see your reply.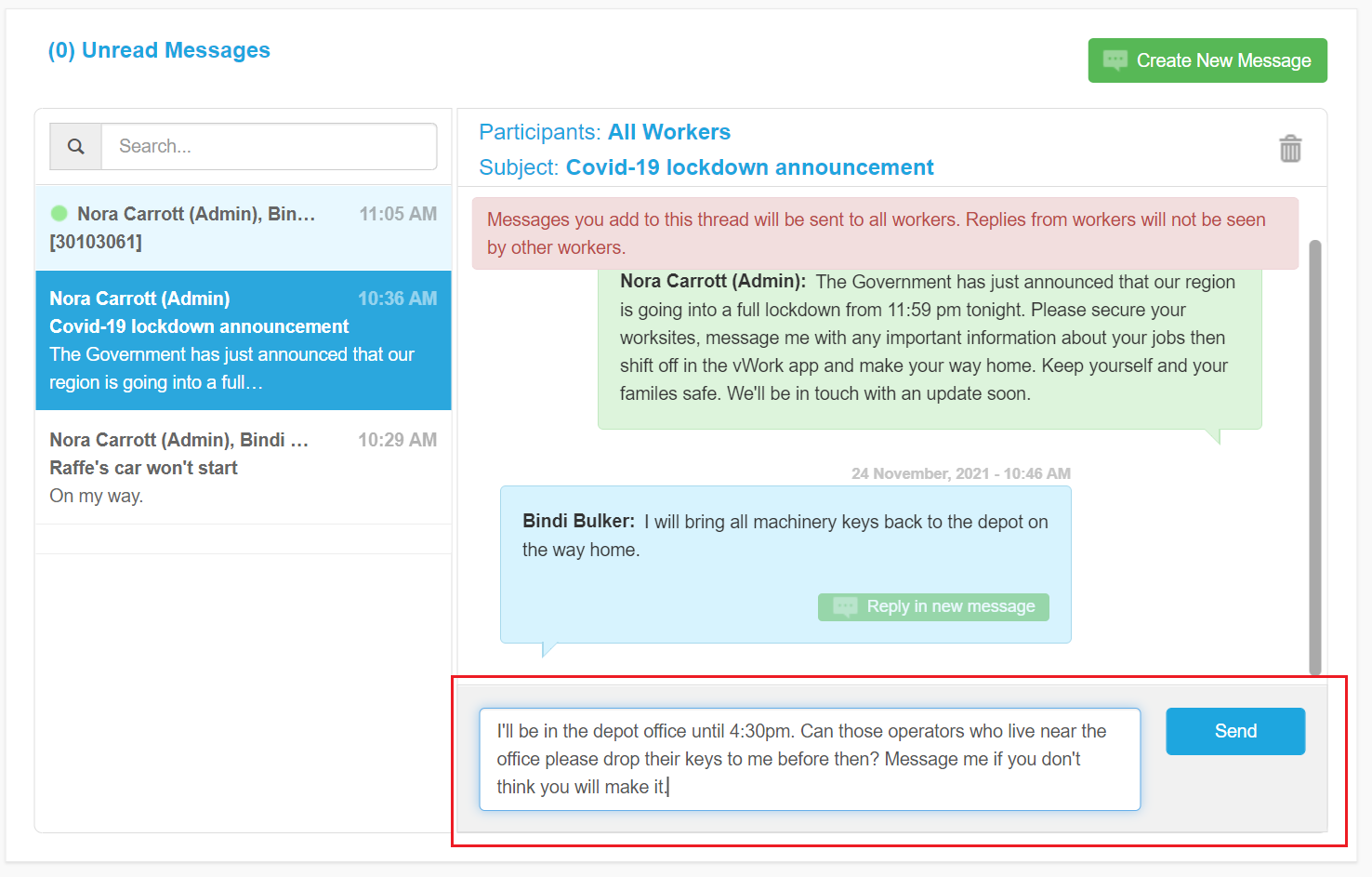 You can send a reply message to only that mobile worker if you need to. This will begin a new message thread with only that worker.
To reply to a single worker in a multi-worker message thread:
Click the green Reply in new message button in the mobile worker's message. This will create a new message thread pre-populated with the worker's name, their message, and referencing the subject from the original thread.


Enter a new message in the Reply to thread field and click Send as you would for any message thread. The worker will get the reply in a new message thread on their app and they will also retain the original message thread.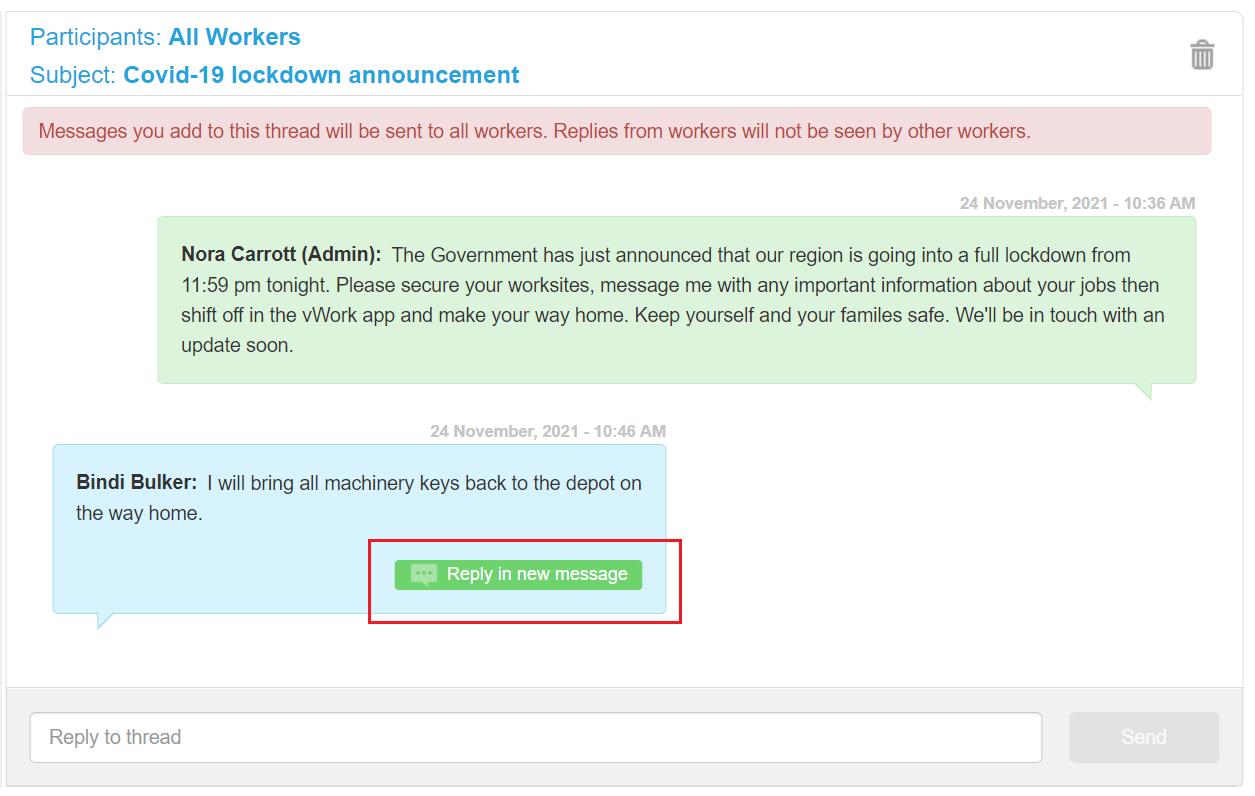 How do I know I have a new message?
New messages from mobile workers are only visible to dispatchers who are logged in to vWork.
You will know when you have new messages to read because a message count shows next to the Messages tab. This tells you how many unread messages there are. Open the Messages tab to read the new messages. Unread messages show in a blue box with a green dot. Click on them to open and read the new messages.




Related articles
To find out more about Messaging and how to enable it in vWork please see the articles: