What is invoicing in vWork?
vWork will allow you to attach invoices to jobs. Invoices contain a description as well as a set of line items.  Line items can be time or materials that you wish to bill for.
Why should I use invoicing?
Imagine no more manual invoicing!  Automated invoicing saves you precious time and administration costs.  Invoicing is one of the most valuable parts of vWork if you take the time to set it up.  
Once you have created your price books and enabled this feature, you will find it a huge time saver and a massive benefit to having vWork.
How to set up the invoicing feature
Your dispatchers and mobile workers (if given permission) can add line items to jobs and automatically generate invoices based on your jobs in vWorkApp.
First, Turn On Invoicing
You can turn on settings on the invoicing permissions tab.
The first step is to enable invoicing for your account, set a default tax rate and select a currency.

Second, Setup Your Worker Permissions
Dispatchers are allowed to edit invoices, but you need to choose how much power you give to your mobile workers.
Are they allowed to edit the line items? Edit the description? Change the tax rate?

Select Which Templates Should Include Invoicing
Next, you can select which of your job templates should include the invoicing fields. In the example below I have selected 6.

Customize Your Invoice Details
Next, you can select what information you would like displayed on the invoice. 
Preview Your Invoice
By selecting "Show a preview" of your invoice you can see your standard layout.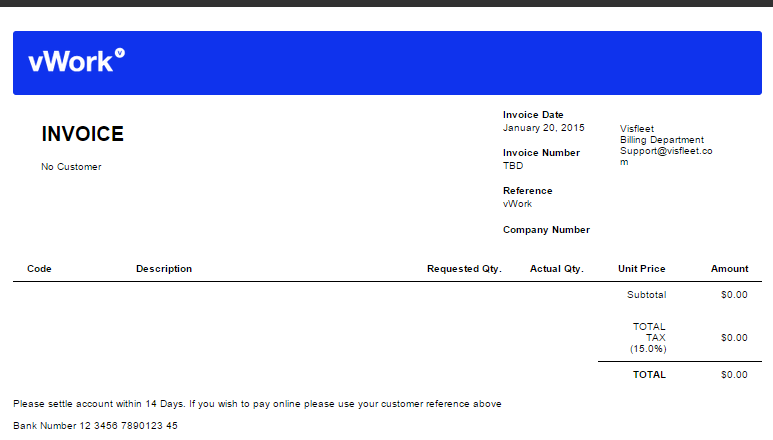 That's it, now when you create new jobs from any of these templates you will be able to record the information necessary to create an invoice.
If you wish, you can also setup pre-defined lists of items that your users can add to invoices, these are called Pricebooks.
Your dispatchers have full control over invoices, but you can customise what permissions you give your mobile workers, ranging from hiding the invoice completely, through to just allowing quantity changes or even full edit functionality. There is more information on the invoicing permissions here.
Invoices can be printed, emailed or exported from vWork to another system for reconciliation.
We offer off the shelf integrations for Xero, QuickBooks Online and desktop versions of Quickbooks.
We don't add an invoice number until it is passed to one of the accounting integrations as above.
We add 'TBD' as the invoice number however you are free to use the job number as the invoice number.