First, make sure Assets have been enabled in your account. You will know if they are enabled as you will see an Assets tab in the vWork webapp.

If you would like to find out more about Assets please email support@vworkapp.com. One of our team will be in touch to discuss your requirements.
In this article
Toipcs in this article include:
You can quickly go to the topic you are interested in by clicking one of the links above. Return to this topic list at any time by clicking this icon.


Set up Asset User Permissions
Make sure the person who will set up Assets has the Assets User Permission enabled. The Admin for your account should ensure this Permission is turned on to Full on the User Permissions page.
To do this:
Go to Settings>Users >User Management and select the user for who you want to enable Asset User Permissions.
Scroll to the Webapp Permissions under the User Permissions area.
Select Full for the Assets permission.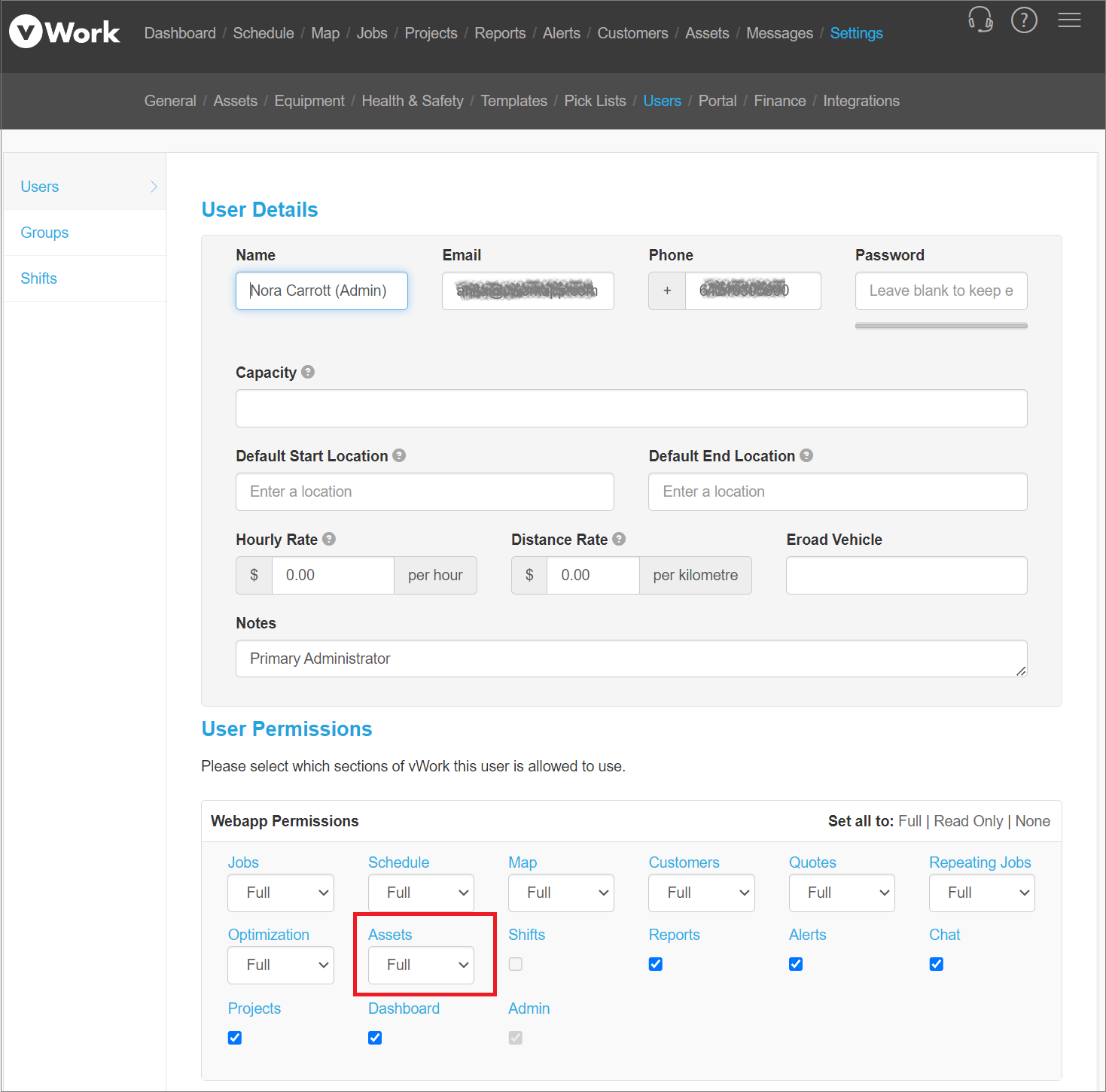 Add your Assets
Assets can be manually added or imported in bulk.
Manually add an asset
To manually add an asset:
Go to Assets>Assets List
Click Add Asset and fill in the Assets details.
Click Create Asset.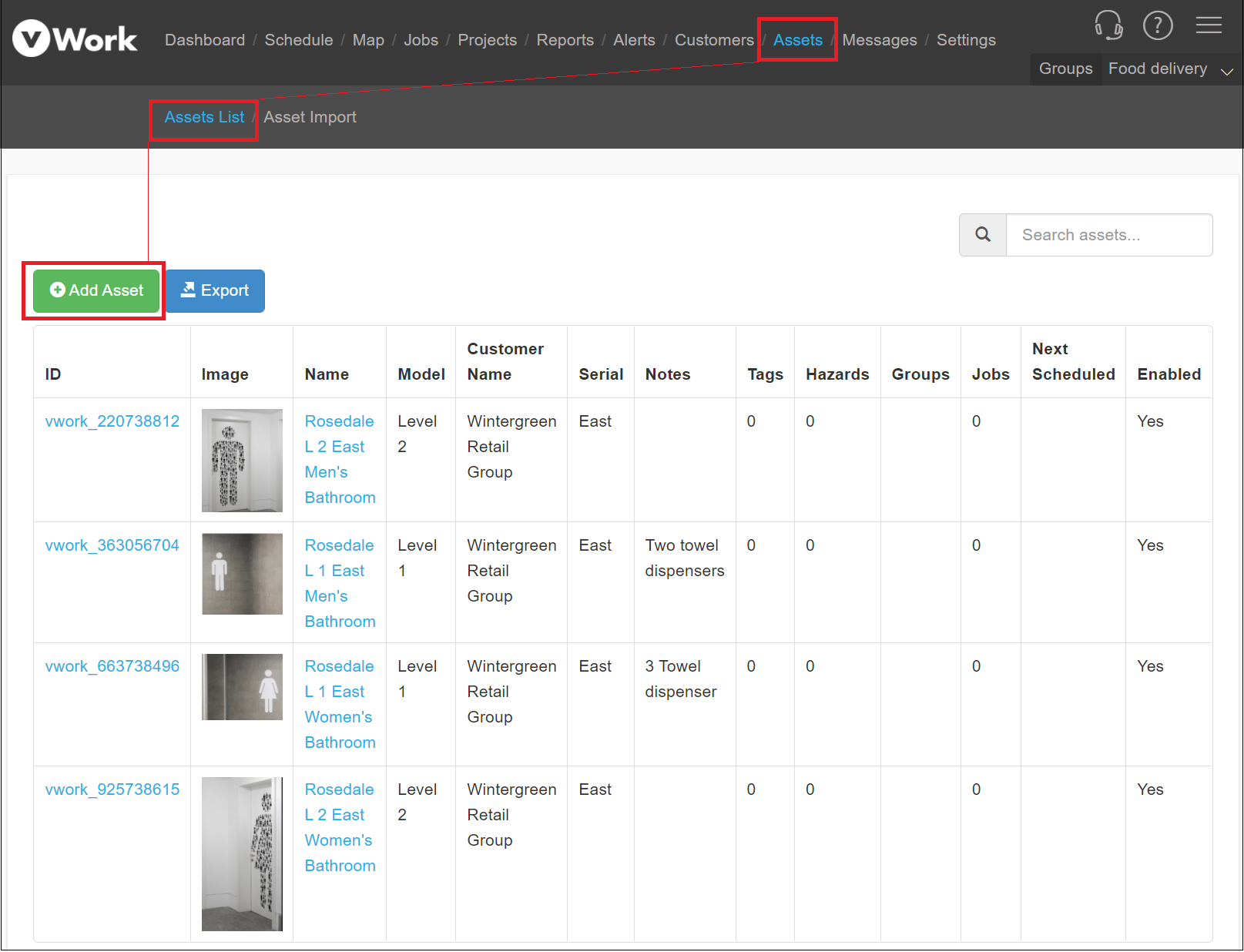 Bulk Import Assets
You can bulk import Assets using a .CSV file. The CSV file can contain all of the following information that you can match to the fields saved with each Asset.

Note: It helps to set these up as the headings in the .CSV file you create.


| | |
| --- | --- |
| Field name | Description |
| Asset Third Party ID | The ID you use to identify an Asset within your organization. |
| Customer Name | The name of your customer who you service the Asset for |
| Model | Use this to help identify the Asset. It might be a model name or something similar. This shows in the Asset List. |
| Serial number | Use this to provide more detail about the Asset. It might be a unique serial number on the Asset. |
| Notes | Useful information about the Asset. |
| Cost | Use this to put a value on the Asset or show how much a service costs. |
| Lat | The latitude of the Asset's geolocated address. |
| Lng | The longitude of the Asset's geolocated address. |
| Address | The physical address of the asset. |
| Enabled | Enter "True" under this heading if the Asset is enabled for use in jobs. |
| Group Name | The name of the Group the Asset belongs to if you have Groups enabled in your account. |
| Hazard ID | The ID assigned to a Hazard in vWork (if you have Health & Safety enabled in your account). |
| Tag ID | The ID assigned to a Tag in vWork (if you use Tags in your account). |
| Optimization Order | The order number for the Asset is used to specify how an optimization arranges the order of jobs that relate to the Asset. This works with Optimization Grouping. |
| Optimization Grouping | The category you assign the Asset to for use in Optimization Ordering. This works with the Optimization Order number. |
Tip: An easy way to get a formatted asset list is to manually add 1 asset, then export this as a CSV file using the Export button. This provides a template for you to add your Asset information to.
To find out more about Bulk importing your Assets, take a look at the article: Bulk Importing Assets.


Add more custom fields to your Asset
You can also add extra custom fields to all your assets if you need these. These fields are read-only or hidden. They provide additional information on the Asset.
To add more custom fields to your assets:
Go to Settings > Assets
Add extra fields as required.
To find more about this, please read the article: Common Fields in Assets.
Note: If you remove these custom fields you delete them from all Assets.

Add Assets to your jobs
Once you have put your Assets into vWork you can add them to your jobs. You can either add them at the template level or add them to an individual job.
To add an Asset to a job or template:
Go to the Template or the Job
In the Job Information tab scroll down to Assets.
In the Select an Asset field start entering the Asset name. A list of assets will display. Select the Asset you want.
Save your changes.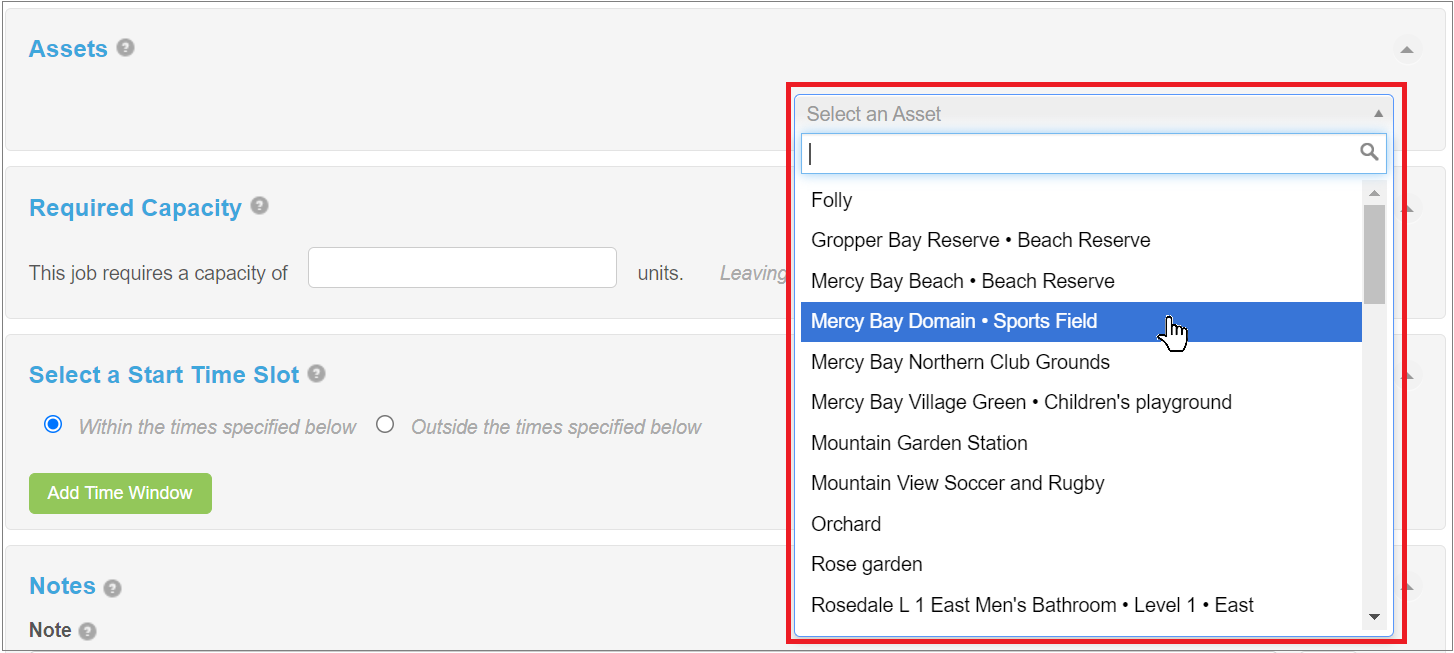 Importing Groups, Hazards, and Tags with your Assets

When you are importing hazards or tags with your assets, there are a few rules to adhere to.
The Group name must match the Group name exactly as it is shown in vWork (watch for capital letters and spaces).
You must use the Hazard ID or Tag ID from vWork. The Hazards and Tags must already exist in vWork.
When importing multiple hazards, tags, or groups with assets in a CSV file you must separate the ID's with a | symbol ("Shift+\" on your keyboard).
For example, to import tag IDs 123, 124, and 456 into one asset, your CSV cell would look like: 123|124|456.
This is the same as importing multiple hazards and groups.

Add Assets to Repeating Jobs
To find out how to add assets to your repeating jobs, please take a look at the article: How do I set up Repeating Jobs v2 - with Assets.


Good to know
If you link an Asset to a customer or a Group they only show in jobs for that customer or that group.