It's important you set up your iOS vWork mobile app so that it works in a way that fits with the jobs you do and your work environment. You can adjust the default settings in the Settings menu.
Note: Some vWork settings for the mobile app are set in your business's vWork account by the vWork Administrator. These relate to the types of tasks you have permission to perform in the app. You can't change these settings in the mobile app.
Open the Settings screen
You open the Settings menu from the main menu - found in the red banner on the Jobs screen.

To open the settings:
In the Jobs screen, tap to open the main menu.


Tap Settings to open the Settings screen.
Settings categories
The vWork settings are grouped in the app into four categories:
This article explains how to get the most from Notifications settings. If you want to find out about the other iOS vWork mobile app settings, you can click a topic link from the list above.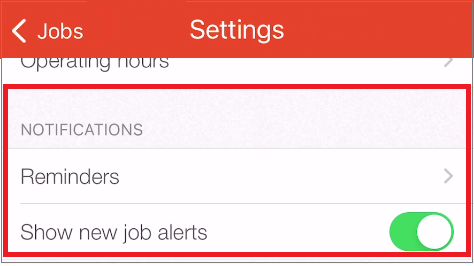 In this article
There are two vWork settings that belong to the Notifications settings. We explain what these are and how to use them. Topics include:
Click a topic from the topic list above to go to that topic. You can return to this topic list by clicking this icon:

Reminders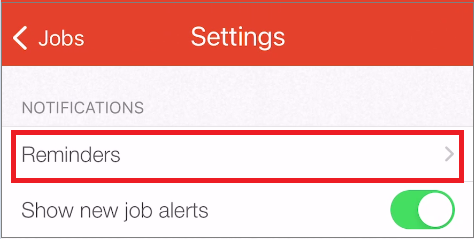 The Reminders setting is where you set Mobile Reminders in the vWork mobile app. Mobile Reminders send you notifications on your mobile device to remind you to complete a step for a job. This is useful when it is important to keep the status of a job that you are working on up-to-date in both the mobile app and on the vWork server. You should complete steps in the mobile app at the same time that you completed them physically because:
The step completion may be used to trigger an alert that lets a customer or other stakeholder know you are on the way.

A customer may be invoiced for the job based on the time you actually spent working on it. Job steps are used to track and record this time in vWork accurately.

A customer may be invoiced for a job based on the distance you have traveled to perform all the steps in the job.

Up-to-date job information may be shared with and needed by other software applications in your business.
Types of Mobile Reminders
There are three Mobile Reminders you can toggle on and off in your vWork mobile app. They are all set to off by default. These are:
Scheduled - this notifies you 15 minutes before a job is scheduled to start if you are not already working on another job.
Arrival - this reminds you to complete the next geocoded step (a step with an address you can locate on a map from within vWork) when you are within 300 meters of the address and you are not moving faster than walking speed.
Departure - this reminds you to complete a geocoded step when you have left the address for the step.


How to turn Mobile Reminders on or off
To turn a Mobile Reminder on or off:
From the three Mobile Reminders tap the Mobile Reminder you want to turn on or off to toggle the switch. Green is toggled on and grey is toggled off.
The article, iOS: turn on mobile reminders, provides more detailed steps for how to turn on Mobile Reminders in the mobile app.
You may also find this article helpful to understand what triggers a Mobile Reminder to send you a reminder notification, How mobile reminders work.

Show new job alerts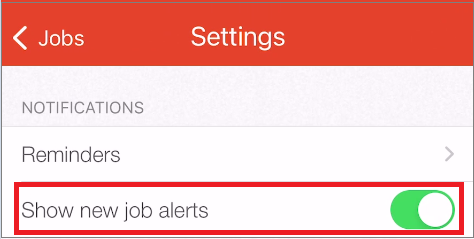 This setting notifies you in the vWork app when a new job is published on your Jobs screen or there is a change to one of your jobs. The default is to have this toggled on (green).

When Show new job alerts is toggled on, a new job or job change published to your vWork mobile app triggers a notification in the app that looks like this.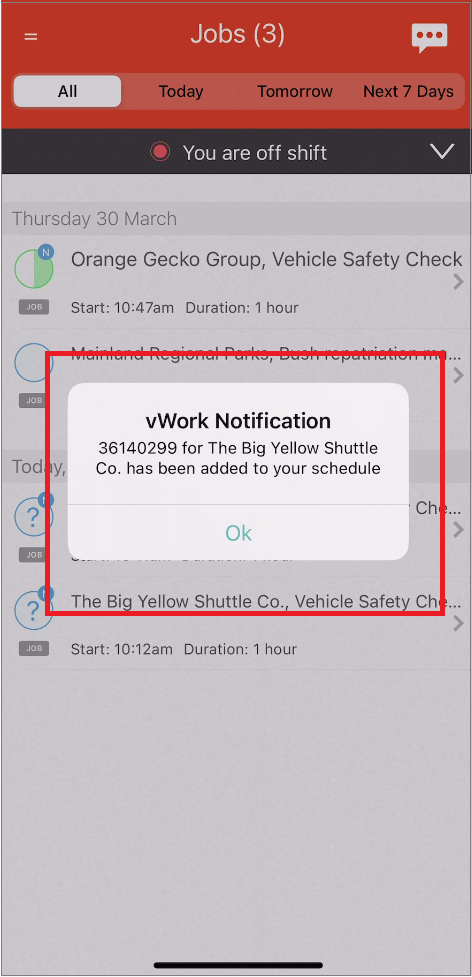 How to activate/deactivate Show new job alerts
To toggle new job notifications on and off:
Tap Show new job alerts to toggle the switch; green is toggled on and grey is toggled off.