New vWork accounts are created with one Admin user already created from the sign-up information. This user has the name, email address, and password you entered during the sign-up process. An Admin user is able to access and change every aspect of your vWork account. If you are uncertain about who your primary Admin user is, please email support@vworkapp.com.

Note: You must always have at least one user with the Admin user permissions selected in your account.
In this article
This article explains how to add vWork web app and mobile app users to your vWork account.
Topics include:
Click the topic link above to go to that topic. You can return to this topic list by clicking this icon:


It is helpful to read this article with these two articles that explain more about user permissions:
Create a new user
To add more users:
Go to Settings>Users>Users to open the User Management page.


Click Add User to open the User Details page where you will enter the user's details and set their user permissions.




Enter the user's details under the Create User Heading.

You must include an email address to enable the user to log in to vWork.
Enter a valid cellular phone number in the Phone field. Make sure you exclude spaces when you enter this number.
It is helpful to make a note of the user's password. To find out more about creating a strong password, please read the article, vWork Password Requirements.





Scroll to the User Permissions heading and select the Webapp Permissions and/or Mobile Permissions that apply to the user.

Where there is a drop-down list you can choose a permission level.

Click to select from:

Full - this gives the user full access and edit rights.
Read only - this lets the user view this page but not make changes to it.
None - the user cannot view or edit this page.
Alternatively, where there is a checkbox, click the checkbox to add a checkmark and enable the permission. It will be fully enabled when checked or fully disabled when empty.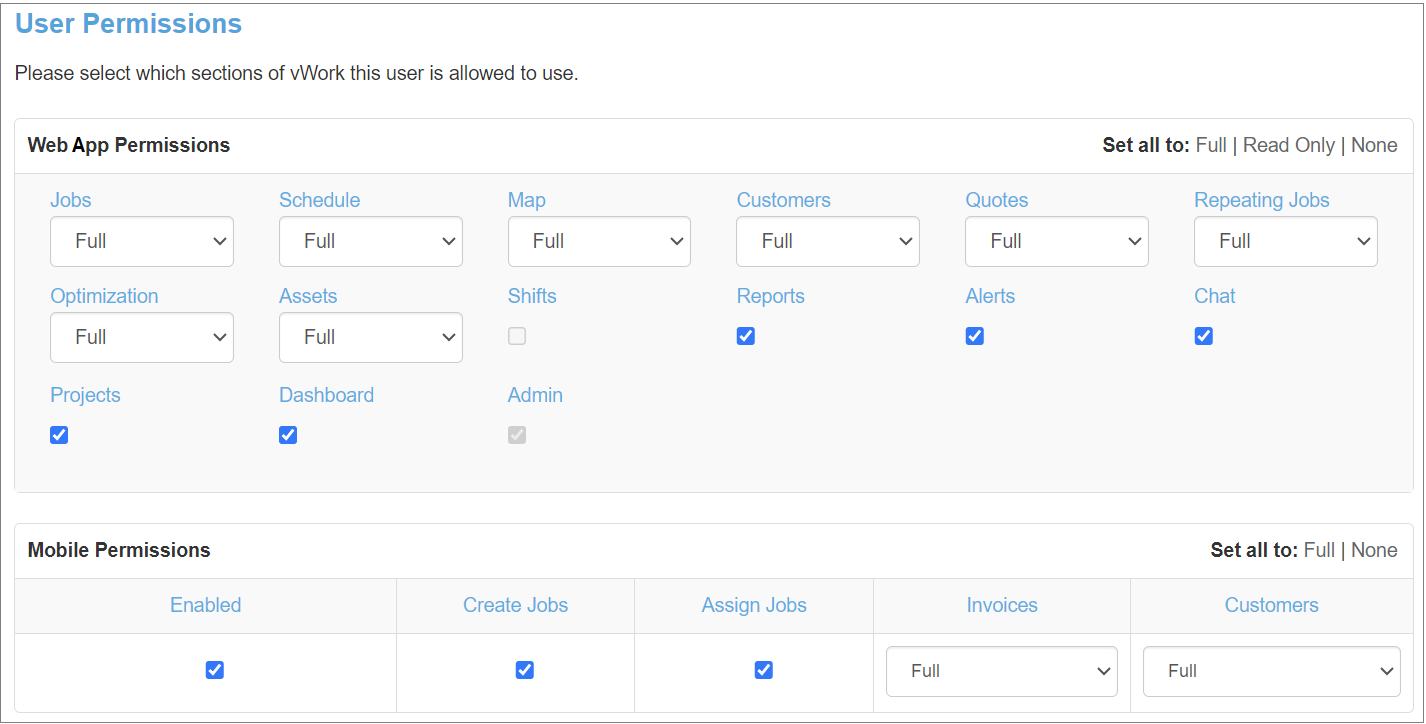 Note: User permissions enable access to both the Web app and the Mobile app.
The Web App Permissions enable permissions for Administrators and Dispatchers.
Mobile Permissions are where you enable permissions for users of the Mobile app - normally your workers in the field.
The articles, Web App Permissions and Mobile Permissions, explain more about the user permissions and how to apply these.

Send signup and login links to mobile app users
To easily set up your mobile workers with the vWork Mobile app you can send them SMS text message links from their User details page. There are two types of SMS messages you can send:
Download the vWork mobile app:
The worker clicks the link in the SMS message to start the download of the vWork mobile app.


Automatically log in to the Mobile App:
Once the vWork mobile app is installed on a worker's phone you can send them another SMS message with a link that enables them to automatically log in to the mobile app. You can send this link anytime a mobile user needs help logging into their Mobile app.
To send either SMS link to a mobile worker:
Go to Settings >Users> User.


Select the User from the User Management page to open their User Details.


Scroll to the bottom of the page to Send Login Details to User.


Click Send now in Step 1 or Step 2.
Note: These links are only active if a valid mobile number is entered in the Phone field in the User Details. If the user already has the Mobile App on their phone you need only send them the Step 2 message for them to automatically log in.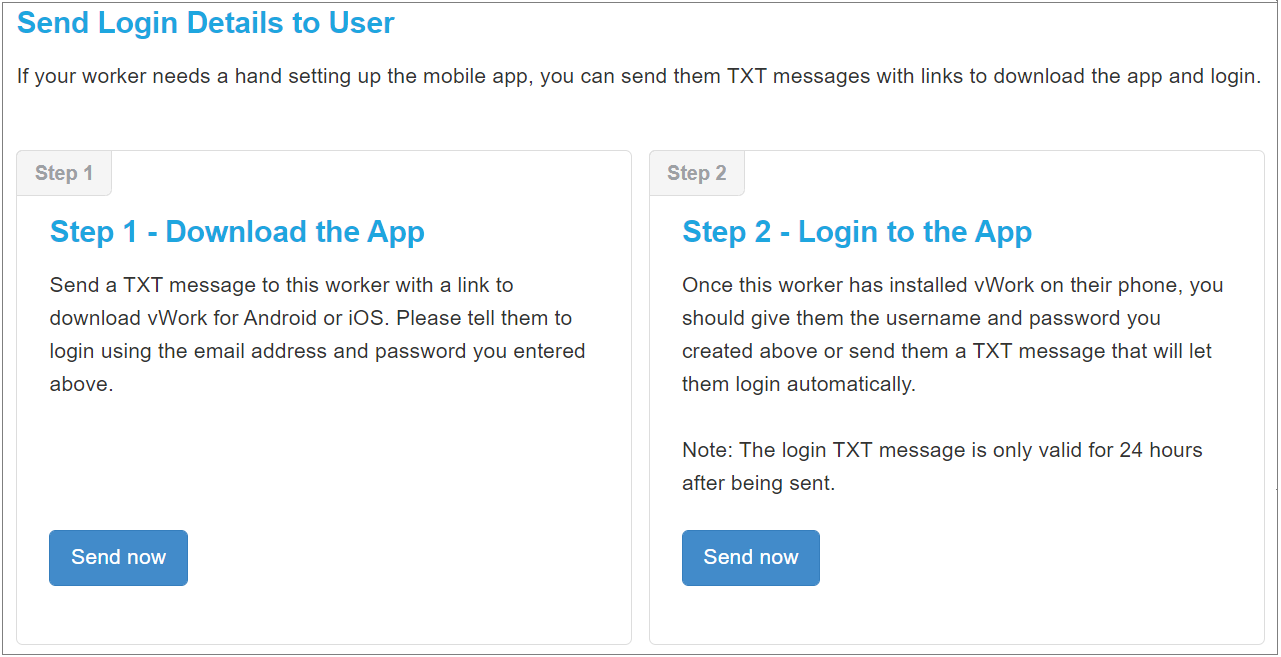 🔔Important: Mobile app users must have a valid mobile number that is used exclusively by them to use the vWork mobile app.