Custom fields may give you information about a job, or they enable you to capture information about a job while completing it. There are different types of custom fields including text, photo, number, date, link, and others.
If you are having trouble seeing custom fields for a job it may be that the fields are grouped by section and the sections are collapsed (closed); only the section headings are visible on the Fields screen. We do this to make it easier to navigate through custom fields when a job has a lot of them.
In this article
This article explains how to view hidden fields and navigate around the Fields screen on both iOS and Android mobile devices.
Topics include:
Click the topic link above to go to that topic. You can return to this topic list by clicking this icon:
View fields in a collapsed section
This is what collapsed sections look like for a Vehicle Safety Inspection job on an iOS device (iPhone). When field sections are collapsed you can only see the section headings; in this example the headings are Exterior inspection, Interior inspection, Comments/Concerns, Acknowledge vehicle is safe to use.
Note: This looks similar on an Android mobile device and the instructions to expand and contract sections are the same on both iOS and Android mobile devices.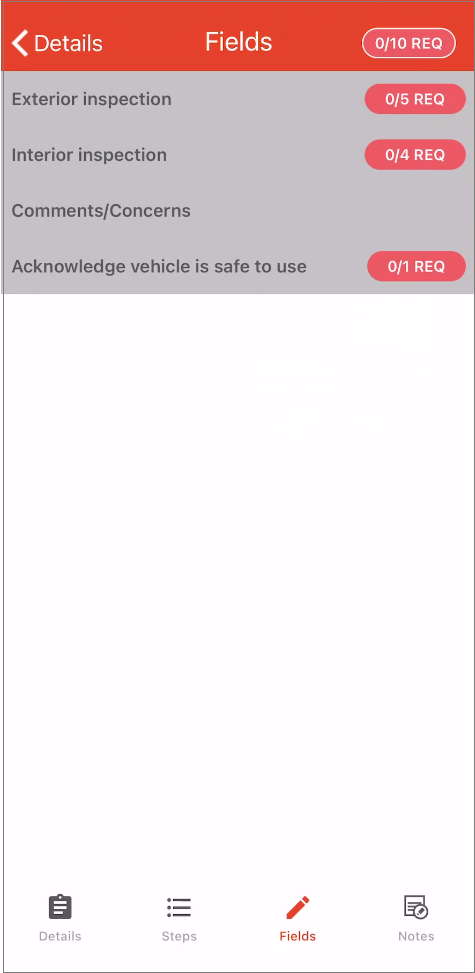 Expand a section
To expand a section and view the custom fields in it:
Tap the section heading.

Here is the same job with the first section, Exterior Inspection, now expanded.

You can see there are a lot of fields to complete in this section. If they weren't hidden it would be hard to know there were more fields further down the screen.


Collapse a section to hide the fields
To collapse a section and hide the fields:
Tap the section heading to hide the sections in that field.
Scroll to see more fields
Sometimes you may have a job that has sections with so many custom fields that they extend below the bottom of the screen.
To view custom fields in this section and other section headings that extend beyond the bottom of the screen drag your finger up the screen.
Here is the same job after we have dragged our finger up the screen to scroll. This action revealed the remaining fields in this section and the other custom field section headings.